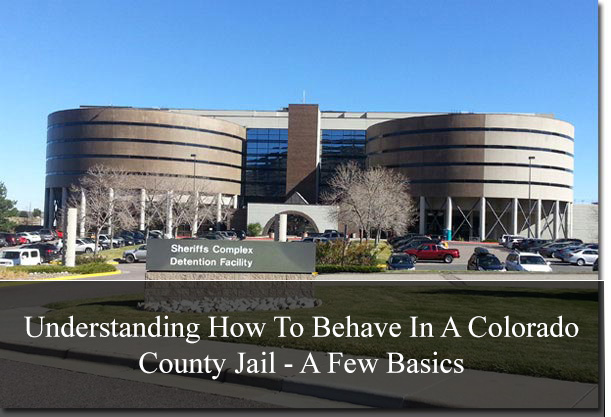 By H. Michael Steinberg Colorado Criminal Defense Lawyer – Attorney
Understanding How To Behave In A Colorado County Jail – For many of my clients spending even one day in the county jail is traumatic. This article intends to provide only some of the most important information about survival in a Colorado county jail.
For a more thorough publication – download the County Jail Survival Guide by www.JailMedia.com
It is free.
What You Don't Know About Colorado County Jails Can Hurt You
Most of my clients are terrified to go to jail for the first time. As in many things in life -not knowing what to expect or how to act causes the anxiety and fear. Having some idea of how to act and what to say and not say in the county jail "lock up" means that your stay there can be less potentially dangerous to you.
"First time" county jail inmates need to know – at a minimum – the basics of how to act and how to avoid trouble by avoiding saying the wrong thing. Figuring out the "jail culture" of "your" jail may make your period of incarceration more bearable and may save
Understanding The Difference Between Colorado County Jails And Prison (DOC)
The county jail is not the same as the Colorado Department of Corrections -and they are often confused. Jail is very different than prison. Jail is intended as short term incarceration to resolve relatively minor charges. Prison is where offenders are sentenced for felony crimes and – hopefully – only when there is no other alternative sentence available.
Getting Ready For Surrender On A Warrant – Preparing For The Jail Experience
If you know you will be arrested on a new warrant – or if you have already been sentenced to a term in the county jail – you will have the opportunity to plan for this difficult time by learning as much about what to expect as possible. One important thing to understand is something called "classification."
Classification answers the question:
              Who will you be placed with and where will you be in the jail?
While very small jails in rural Colorado may not separate inmates according to their charges and so called "lethality," many of the Front Range jails – Jeffco, Arapahoe, Adams etc. classify inmates and separate certain inmates form the general population "gen pop" for their safety and the safety of others.
This classification scheme will separate most known violent offenders, sex offenders and those offenders with the most serious medical issues – many of those in the last category – drug offenders.
Some Sound Advice
Do NOT talk about your case – do not explain how or why you committed or did not commit your crime. Please don't try to distinguish your crime as "less serious" than the "real criminals" all around you. most inmates who are incarcerated believe that they are innocent – their lawyer is terrible or that they not as "bad" as those around them.
If you end up in "gen pop" as you probably will  try to make at least one friend who knows what is going on at the jail – knows the ropes – and just try to follow their lead.
Why You Should Keep Your Mouth Closed And Should Lay Low
Talking about your case will draw unwanted attention to you making you a potential target for violence.
As noted, every jail has it's own "culture" depending on where the jail is located and the makeup of the population of that jail. However, some of these "unwritten rules" can be applied to all Colorado county jails.
Don't call other inmates any names – even if you are just kidding. The words "punk" or "bitch" should never come out of your mouth. On the other hand don't appear weak – don't suggest to anyone that you can't handle yourself if you are forced to do that.
Which brings me to the topic of violence in jail.
Violence In Colorado County Jails
You may see some acts of violence in your county jail – but it is rarely anything like reality tv.
The best way to avoid violence is to make friends – real friends. That does not mean joining a gang in jail – it means using your head.
It is kind of like it was with bullying in high school. Do not "act scared" or show any form of weakness. Acting visibly scared sends the message that you will not be willing to stand up for yourself. While it may be difficult – act "confident" in jail – no one knows your skills or your lack of skills. While the guards are there to keep the peace – you cannot rely on them at all times. There are more inmates than guards. Although fights are very rare in jail – you may need to defend yourself in a fight – so be prepared for that possibility.
This doesn't mean that you need to throw a punch or fight, just that you need to be willing to protect yourself if anybody attacks you. This is unlikely if you know what you are doing in jail, but be prepared for the possibility of violence.
Under No Circumstances Should You Snitch
The only exception snitching – is when your Lawyer advises that you have no other choice.
Rule 1 – Don't snitch on anybody. There is nothing lower in the county jail "food chain." If you see something that you don't like – a fight for example – or contraband (drugs) being smuggled into the jail  – in almost every instance you need to just look the other way.
If your own safety is not implicated – don't get involved. To snitch puts you at great risk benefit.
Protective Custody – PC
If you are in immediate danger tell the guards that you need to be transferred to protective custody. No one in the general population should know the reason you were placed in protective custody. Keep the request on the "qt."
If You Enter The Jail With An Addiction
If you have a drug or alcohol addiction – try to "detox" before you check into jail. Jail based rehab – while a form of treatment – is not as effective as private outside treatment programs.
You will be going cold turkey in the jail. In some ways that can be a long term assist to your efforts at fighting your addiction.
Understanding How To Behave In A Colorado County Jail – A Few Basics
If you found any of the information I have provided on this web page article helpful please click my Plus+1 or the Share buttons for Twitter and Facebook below so that others may also find it.
The reader is admonished that Colorado criminal law, like criminal law in every state and at the Federal level, changes constantly. The article appearing above was accurate at the time it was drafted but it cannot account for changes occurring after it was uploaded.
If, after reading this article, you have questions about your case and would like to consider retaining our law firm, we invite you to contact us at the Steinberg Colorado Criminal Defense Law Firm – 303-627-7777.
Never stop fighting – never stop believing in yourself and your right to due process of law. You will not be alone in court, H. Michael will be at your side every step of the way – advocating for justice and the best possible result in your case. H. Michael Steinberg is passionate about criminal defense. His extensive knowledge and experience of Colorado Criminal Law gives him the edge you need to properly handle your case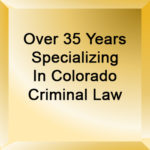 ABOUT THE AUTHOR: H. Michael Steinberg – Email The Author at:
A Denver Colorado Criminal Defense Lawyer – or call his office at 303-627-7777 during business hours – or call his cell if you cannot wait and need his immediate assistance – please call 720-220-2277.
"A good criminal defense lawyer is someone who devotes themselves to their client's case from beginning to end, always realizing that this case is the most important thing in that client's life."
You should be careful to make a responsible choice in selecting a Colorado Criminal Defense Lawyer. We encourage you to "vet" our firm. Over the last 30 plus years – by focusing ONLY on Colorado criminal law – H. Michael has had the necessary time to commit to the task of constantly updating himself on nearly every area of criminal law, to include Colorado criminal law and procedure and trial and courtroom practice. H. Michael works hard to get his clients the best possible results in and out of the courtroom. He has written, and continues to write, extensively on Colorado criminal law and he hopes this article helps you in some small way – Understanding How To Behave In A Colorado County Jail – A Few Basics.
Summary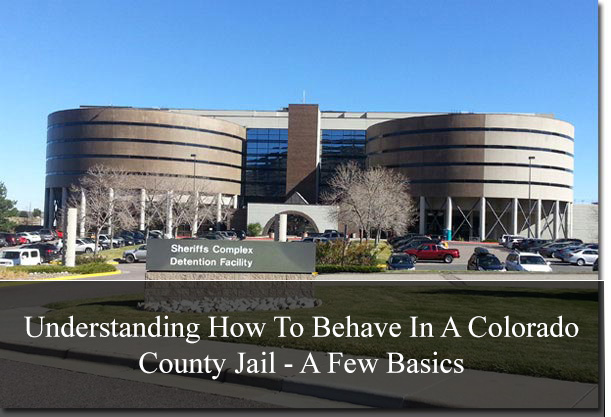 Article Name
Understanding How To Behave In A Colorado County Jail - A Few Basics.
Description
For many of my clients spending even one day in the county jail is traumatic. This article intends to give only some of the most important information about survival in a Colorado county jail.
Author